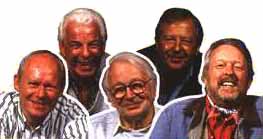 I'm Sorry I Haven't A Clue -
The antidote to panel games.
BBC Radio 4's panel game that almost defies description! First broadcast on Tuesday 11th April 1972, with the teams being given 'silly things to do' by chairman, Humphrey Lyttelton, and since his passing in 2008, after a variety of guest chairmen, Jack Dee has taken over the chair. Unfortunately, the BBC are believed to have wiped their recordings of all the shows prior to 1978, so if you can add any information, or have any recordings of the shows I might not have, please get in touch.
---
Programme Info
---
Games Info
---
EXCLUSIVE! At last - a picture of the delightful Samantha.
---
Links
For information on broadcast dates etc., take a look at the British Comedy pages and The British Comedy Guide
For the low-down on almost every aspect of ISIHAC, from details of the Games played, to the history of the show, take a look at the officially unofficial I'm Sorry I Haven't A Clue web pages
More history of ISIHAC and guests is at The Free Dictionary
There is a site dedicated to The Goodies called The Saucy Gibbon which includes some ISIHAC information. Use http://www.the-goodies.co.uk/isihac to get there.
The alt.games.mornington.crescent newsgroup
---
Contact Me
Want to get in touch? E-mail me here


I would like to extend my thanks to the following people for help with information (in no particular order):
John Lucas - Martin Kelly - Colin Foster - Richard Foster - Paul Webster -
Simon Denny - Phil Watson - Jim Heaton - David Wangerin - James Kenyon -
Keith Wickham - Mick Giles - Tom Morris - Rob Scott - David Moore -
Stephen Heaton - Phil Colby - Bill Lawson - Adrian Jenkin

---
Back to www.isihac.org.uk
Copyright © 1998-2023 Kevin Hale. All rights reserved